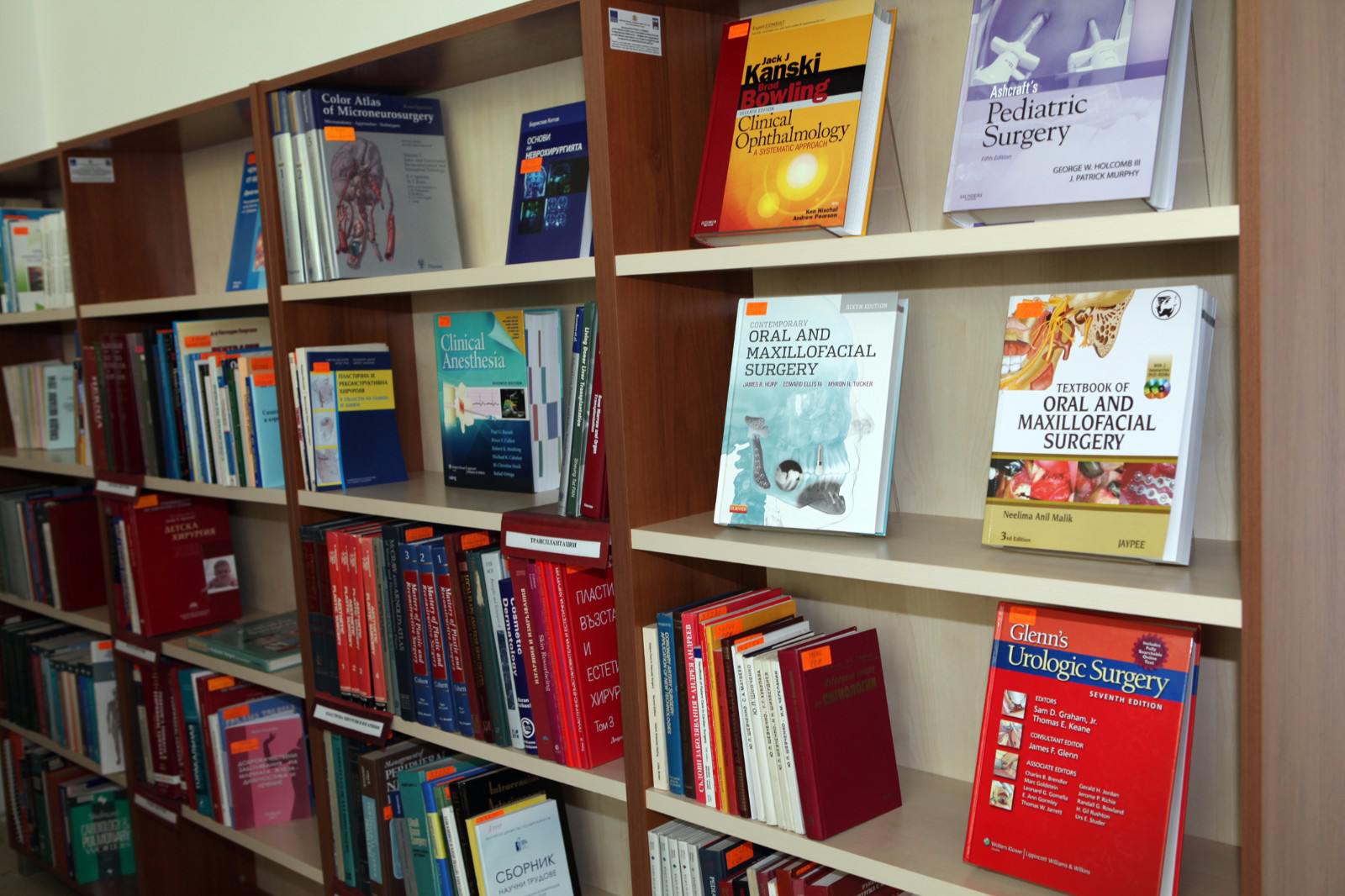 e-Resources Provided Under Competence Center PERIMED (Personalized Innovative Medicine) Project
Following the execution of the project Contract № BG05M2OP001-1.002-0005-C01 Competence Center PERIMED (Personalized Innovative Medicine), funded by the Operational Programme Science and Education for Smart Growth, co-funded by the European Union through the European Structural and Investment Funds, subscription-based access to the following electronic content of specialized international publications is provided:
1. Electronic scientific journals
Critical Care Clinics, ISSN: 0749-0704 (2021 – 2022)
Anesthesiology Clinics, ISSN: 1932-2275 (2021 – 2022)
Current Opinion in Critical Care, ISSN: 1070-5295 (2019 – 2021)
Current Opinion in Anesthesiology, ISSN: 0952-7907 (2019 – 2020)
Critical Care Medicine, ISSN: 0090-3493 (2019 – 2020)
Journal of Drug Targeting, ISSN: 1061-186X (2019)
2. Collection Medicine, containing e-journals of Springer Nature (Springer Journals: Medicine and Biomed-Life Sciences) for 2020 – 2023.
Access is provided on computers within the university network of MU – Plovdiv on the SpringerLink platform.
3. Electronic protocols (Springer Protocols) from the SpringerLink database (platform) in Biotechnologies and Healthy Lifestyle for 2020 – 2023.
Access to the electronic protocols is provided on computers within the university network of MU – Plovdiv on the SpringerLink platform.
Access to eBooks and textbooks from Freedom Collection on ScienceDirect platform
Access from the university network
Remote access
Following a new three-year agreement between the Ministry of Education and Science of Bulgaria and Elsevier, the below-listed eBooks and textbooks from Freedom Collection are available in full text on the ScienceDirect platform.
You will find below lists of licensed eBooks and textbooks.
FreedomCollectionBooks2022
EducationalTextBookCollection
AccessMedicine (McGraw-Hill)
Access from the university network
Remote access
AccessMedicine and AccessPharmacy in support of the contemporary learning webinar held within the Days of the Library and Information Center – October 24th-28th, 2022 – material covered:
Zoom recording
A password is required to see the recording. You can receive it in any library within the Library and Information Center.
McGraw Hill – AccessMedicine
McGraw Hill – AccessPharmacy
Access Profile Flyer
AccessMedicine is an online resource of McGraw-Hill and includes:
• collection of 100+ constantly updated electronic textbooks and educational tools
• interactive self-assessment tools
• Diagnosaurus® DDx
• Quick Medical Dx & Rx – collection of short evidence-based descriptions of conditions and diseases
• diagnostic tests including laboratory procedures in clinical practice
• hundreds of images and video files
• drug information including dosage, indications and side effects of over 1000 drugs with generic and trade names
• case files
List of textbooks
AccessApp Flyer
Detailed Overview of AccessMedicine for Medical Students
AccessMedicine: An Authoritative Digital Resource for Medical Professionals and Students
AccessPharmacy (McGraw-Hill)
Access from the university network
Remote access
The resource includes leading textbooks in pharmacy, extensive multimedia library and videos, study tools with review questions, flashcards, drug therapy cases, topics in evidence-based pharmacy practice and integrated drug database.
List of textbooks
List of available multimedia
McGraw Hill – AccessPharmacy
Access Profile Flyer
AccessApp Flyer
AccessPharmacy Overview Video
eBook Monograph Collection (EBSCO)
Access from the university network
Full-text books and textbooks
Protein YKL-40 – biomeditsinsko znachenie [in Bulgarian]
Maria Kazakova, Victoria Sarafian
Medical University of Plovdiv, 2015
Psychopathology
Nadejda Petrova Madjirova
Jakcommerce, 2015
Medical Physics and Engineering Education and Training, , Part I
Editors: S Tabakov, P Sprawls, A Krisanachinda, C Lewis
The Pioneering of e-Learning in Medical Physics
Slavik Tabakov, Vassilka Tabakova
SELECTA MEDICAMENTORUM
Ivan Todorov Lambev
Elektronen lekarstven spravochnik (in Bulgarian)
Ivan Todorov Lambev
Compendium pharmacologicum
Ivan Todorov Lambev
Online books on Healthcare
32 online books of John Wiley Publishing House, accessible through Wiley Online Library, were purchased for the purpose of the project Creating a system for efficient distant e-learning for Masters of Public Health, grant agreement № BG051PO001-4.3.04-0035. The project was funded by the operational programme Human Resources Development 2007-2013.
The books can be used within the university network.
Biostatistical Methods in Epidemiology – Newman
Biostatistical Methods: The Assessment of Relative Risks – Lachin
Biostatistics: A Methodology for the Health Sciences, Second Edition – van Belle
Communication in Healthcare Settings – Pilnick
Developing Econometrics – Tong
Diffusion of Innovations in Health Service Organisations : A Systematic Literature Review- Greenhalgh
Digital Libraries- Papy
Econometric Analysis of Health Data – Jones
Effective Healthcare Leadership – Jasper
Financing Health Care – New Ideas for a Changing Society- Lu
A Guide to Teaching Statistics: Innovations and Best Practices – Hulsizer
Handbook of Research Methods in Industrial and Organizational Psychology – Rogelberg
Health Care Errors and Patient Safety – Hurwitz
Health Economics – An Introduction for Health Professionals – Phillips
International Review of Industrial and Organizational Psychology 2010 Volume 25 – Hodgkinson
New Blackwell Companion to Medical Sociology – Cockerham
Occupational Health Law 5e – Kloss
Palliative Care – An Integrated Approach – Buckley
Problem Based Learning in Health and Social Care – Clouston
Public Health Skills: A Practical Guide for Nurses and Public Health Practitioners – Coles
Innovation in Action: A practical guide for healthcare teams – Endsley
Qualitative Research in Health Care 3e – Pope
Quantitative Environmental Risk Analysis for Human Health – Fjeld
Quantitative Methods: An Introduction for Business Management – Brandimarte
Recent Advances in Quantitative Methods in Cancerand Human Health Risk Assessment – Edler
Self-regulation in Health Behaviour- de Ridder
Social Theories of Risk and Uncertainty: An Introduction – Zinn
Statistical Advances in the Biomedical Sciences: Clinical Trials, Epidemiology, Survival Analysis, and Bioinformatics – Biswas
Statistical Methods for Fuzzy Data – Viertl
Statistical Models and Methods for Lifetime Data, Second Edition – Lawless
The Essentials of Biostatistics for Physicians, Nurses, and Clinicians – Chernick
The Psychology of Social and Cultural Diversity – Crisp
Hybrid Books (print + online)
The hybrid books combine printed copy with online access to its full-text content. The password is given in the library.
MEDICINE
Andrews' Diseases of the Skin : Clinical Dermatology / William D. James, Timothy G. Berger, Dirk M. Elson . – 11e
ISBN 978-1-4377-0314-6
Basic Immunology : Functions and Disorders of the Immune System / Abul K. Abbas, Andrew H. Lichtman, Shiv Pillai . – 5e
ISBN 978-0-323-39082-8
Basic Immunology : Functions and Disorders of the Immune System / Abul K. Abbas, Andrew H. Lichtman, Shiv Pillai . – 4e
ISBN 978-1-4557-0707-2
Berne and Levy Physiology / Bruce M. Koeppen, Bruce A. Stanton . – 6e
ISBN 978-0-323-07362-2
Cellular and Molecular Immunology / Abul K. Abbas, Andrew H. Lichtman, Shiv Pillai . – 9e
ISBN 978-0-323-47978-3
Cellular and Molecular Immunology / Abul K. Abbas . – 7e
ISBN 978-1-4377-1528-6
Clinical Anesthesia . – 7e
ISBN 978-1-4511-4419-2
Clinical Cases in Tropical Medicine / Camilla Rothe
ISBN 9780702058240
Clinical Chemistry / William Marshall, Marta Lapsley, Andrew Day . – 8е
ISBN 978-0-7234-3881-6
Clinical Immunology : Principles and Practice / Ed. Robert R. Rich . – 4e
ISBN-13: 978-0-7234-3691-1
Clinical Ophthalmology : A Systematic Approach / Jack J Kanski, Brad Bowling . – 7e
ISBN 978-0-7020-4093-1
Clinical Pharmacology . – 12e
ISBN 978-0-7020-7328-1
Clinically Oriented Anatomy / Keith L. Moore, Arthur F. Dalley, Anne M. R. Agur . – 8e
ISBN 978-1-4963-5404-4
Davidson's Principles and Practice of Medicine / Ed. Stuart Ralston et al. . – 23e
ISBN 978-0-7020-7028-0
Essentials of Clinical Immunology / Helen Chapel et al. . – 6e
ISBN 978-1-118-47295-8
Essential Medical Genetics / Edward S. Tobias, Michael Connor, Malcolm Ferguson-Smith . – 6е
ISBN 978-1-4051-6974-5
Gray's Anatomy : The Anatomical Basis of Clinical Practice, 40e
ISBN 978-0-443-06684-9
Gray's Anatomy for Students / Ed. Richard L. Drake, A. Wayne Vogl, Adam W. M. Mitchell . – 3e
ISBN 978-0-7020-5131-9
Gray's Anatomy Review . – 2e
ISBN 978-0-323-27788-4
Guyton and Hall Textbook of Medical Physiology / John E. Hall . – 13e
ISBN 978-1-4557-7005-2
Guyton and Hall Textbook of Medical Physiology / John E. Hall . – 12e
ISBN 978-1-4160-4574-8
Illustrated Textbook of Paediatrics / Ed. Tom Lissauer, Will Carroll et al . – 5e
ISBN 978-0-323-29987-9
ISBN 978-0-7020-6989-5
ISBN 978-0-7234-3871-7
ISBN 978-1-60831-584-0
Immunology for Medical Students / Roderick Nairn, Matthew Helbert . – 2e
ISBN-13: 978-0-323-04331-1
Histology : A Text and Atlas with Correlated Cell and Molecular Biology / Wojciech Pawlina, Michael H. Ross . – 7e
ISBN 978-1-4511-8742-7
Hunter's Diseases of Occupations / Ed. Peter J. Baxter et al. . – 10e
ISBN 978-0-340-9-4166-9
Marino's The ICU Book / Paul L. Marino . – 4e
ISBN 978-1-4511-8869-1
Marks' Basic Medical Biochemistry : A Clinical Approach / Michael Lieberman, Allan D. Marks . – 4e
ISBN 978-1-60831-572-7
Medical Biochemistry / John Baynes, Marek Dominiczak . – 5е
ISBN 978-0-7020-7299-4
Medical Microbiology / Patrick R. Murray, Ken S. Rosenthal, Michael A. Pfaller. – 8e
ISBN 978-0-323-29956-5
Mims' Medical Microbiology and Immunology / Richard Goering et al. . – 6e
ISBN 978-0-7020-7154-6
Mims' Medical Microbiology . – 5e
ISBN 978-0-7234-3601-0
Muir's Textbook of Pathology / Ed. C. Simon Herrington . – 15e
ISBN-13 978-1-4441-8497-6
Nelson Essentials of Pediatrics / Karen J. Marcdante, Robert M. Kliegman . – 7e  
ISBN 978-1-4557-5980-4
Netter's Clinical Anatomy / John T. Hansen . – 3e
ISBN 9781455770083
NMS Surgery : National Medical Series for Independent Study / Ed. Bruce E. Jarrell, Stephen M. Kavic . –6e
ISBN 978-1-60831-584-0
Operative Otolaryngology : Head and Neck Surgery : In 2 v. / Ed. Eugene N. Myers . – 2e
ISBN 978-1-4160-2445-3
Principles and Practice of Pediatric Infectious Diseases / Ed. Sarah S. Long, Charles G. Prober, Marc Fischer . – 5e
ISBN 978-0-323-40181-4
Sabiston Textbook of Surgery : The Biological Basis of Modern Surgical Practice / Ed. Courtney M. Townsend et al . – 20e
ISBN 978-0-323-29987-9
Sobotta Atlas of Human Anatomy / Ed. F. Paulsen, J. Waschke . – 15e
ISBN 978-0-7234-3639-3 (v. 1)
ISBN 978-0-7234-3732-1 (v. 2)
ISBN 978-0-7234-3733-8 (v. 3)
ISBN 978-0-7234-3491-7 (suppl.)
Tidy's Physiotherapy / Stuart Porter. – 15e
ISBN 9780702050039
DENTISTRY
An Introduction to Orthodontics / Laura Mitchell. – 4e
ISBN 9780199594719
Carranza's Clinical Periodontology . – 12e
ISBN 978-0-323-18824-1
Cohen's Pathways of the Pulp / Ed. Kenneth M. Hargreaves, Stephen Cohen . – 10e
ISBN 978-0-323-06489-7
Contemporary Orthodontics / William R. Proffit, Henry W. Fields, David M. Sarver . – 5e
ISBN 978-0-323-08317-1
Essentials of Oral Histology and Embryology: A Clinical Aproach / Daniel J. Chiego . – 4e
ISBN 9780323082563
Fundamentals of Periodontal Instrumentation and Advanced Root Instrumentation / Jill S. Gehrig . – 8e
ISBN 978-1-975117-50-4
Interpretation Basics of Cone Beam Computed Tomography / Ed. Shawneen M. Gonzalez
ISBN 978-1-118-38106-9
Little and Falace's Dental Management of the Medically Compromised Patient / James W. Little, Craig S. Miller, Nelson L. Rhodus . – 8e
ISBN 9780323088008
Ten Cate's Oral Histology / Antonio Nanci . – 8e
ISBN 9780323087766
Woelfel's Dental Anatomy / Rickne C. Scheid, Gabriela Weiss . – 9e
ISBN 978-1-496-32022-3
PHARMACY
Fundamentals of Pharmacognosy and Phytotherapy / Michael Heinrich et al. . – 3e
ISBN 978-0-7020-7008-2
Pharmaceutical Analysis : A Textbook for Pharmacy Students and Pharmaceutical Chemists / David G. Watson . – 4e
ISBN 978-0-7020-6989-5
Library collections
Books
Dissertations
Periodicals and serial publications
Reference books
Scientific heritage of Medical University of Plovdiv
Rare and valuable editions